Digital Addressable Lighting Interface (DALI)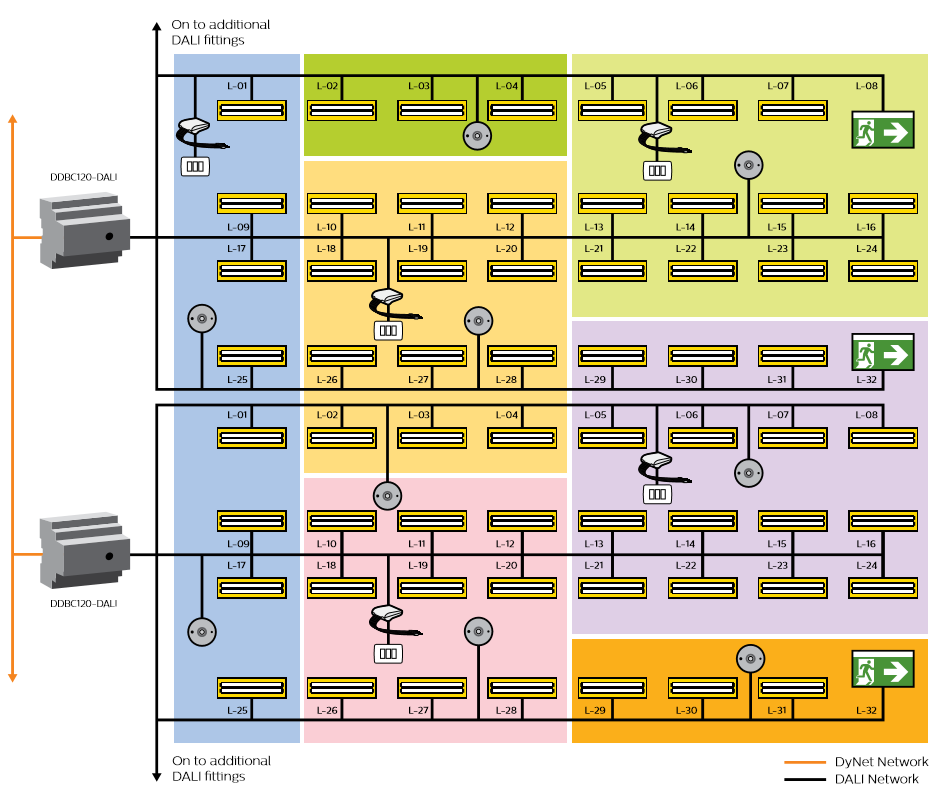 It offers a range of controllers capable of connecting DALI devices to the DyNet network, allowing full control of addressable lamps, addressable groups and broadcast groups, as well as relay-controlled power management (Green DALI) for increased energy savings. All DALI capabilities can be accessed and commissioning by site management software, enabling detailed reporting, diagnostics and emergency lighting controls for DALI systems. DALI distributes the control intelligence into each luminaire. This enables precise modular control when used in conjunction with appropriate DALI Gateway. The system also provides a MultiMaster controller that communicates to a single universe of DALI lighting drivers, sensors and User Interfaces.
Dali drivers are individually addressable and DALI load controllers can send unique instructions about switching and luminance to each lamp, zone or universe from a single instruction. Some controllers are fully bi-directional, enabling critical status information from each luminaire to be reported to the DyNet network. Circuit allocation and data wiring may be determined without reference to each other. The data cable is a non-polarized, two-core, mains-rated. Cable with a maximum network length of approximately 350 meters (1.5mm2 cable). During commissioning, up to 16 native DALI groups may be assigned. This information is stored in each DALI driver, as is the individual address, scene value and power on level. DyNet addressing can be used to create more groups, which are then mapped to specific DALI channels via the controller.